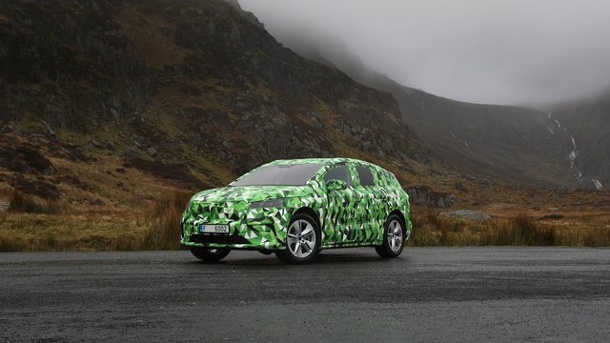 Skoda increases the excitement on its first model designed as a pure electric car. The SUV is called Enyaq and will be presented in the summer. However, it should not remain with this model.
The converted small car Citigo iV was only the prelude, but now Skoda is getting serious and starting the electric age. The final preparations for the start of series production of the first dedicated battery-powered car are underway at the VW subsidiary.
Developed on the platform of the VW ID3 , it will be presented as an Enyaq iV in summer and will be delivered from the end of the year, brand board member Bernhard Maier said during a prototype ride. He put the starting price at around 35,000 euros.
The Stromer drives up as an SUV
There is an electric SUV that is 4.65 meters long and is aimed at the middle class – especially with its spacious cabin. Although about four centimeters shorter than an Octavia, the Enyaq offers around five centimeters more knee room with a wheelbase of 2.75 meters. And the trunk holds 585 liters – not counting the almost 50 liters of storage and storage compartments in the interior.
Skoda is planning a staggered model family in terms of drive and battery power. The Enyaq is said to be available with three battery packs from 55 to 82 kWh for standard ranges between 340 and 500 kilometers. The engine mounted on the rear axle will also be available in three stages with 109 kW / 148 PS, 132 kW / 179 PS or 150 kW / 204 PS.
All-wheel drive is also possible
For a surcharge, some versions can also be ordered with a second 75 kW motor in the bow and then drive with all-wheel drive. You can charge using the household socket, the wall box or a quick charging station – in the best case in 40 minutes from ten to 80 percent.
The Enyaq should not remain. A few months after the first electric car, Skoda is planning a second body variant with a slightly sleeker body.