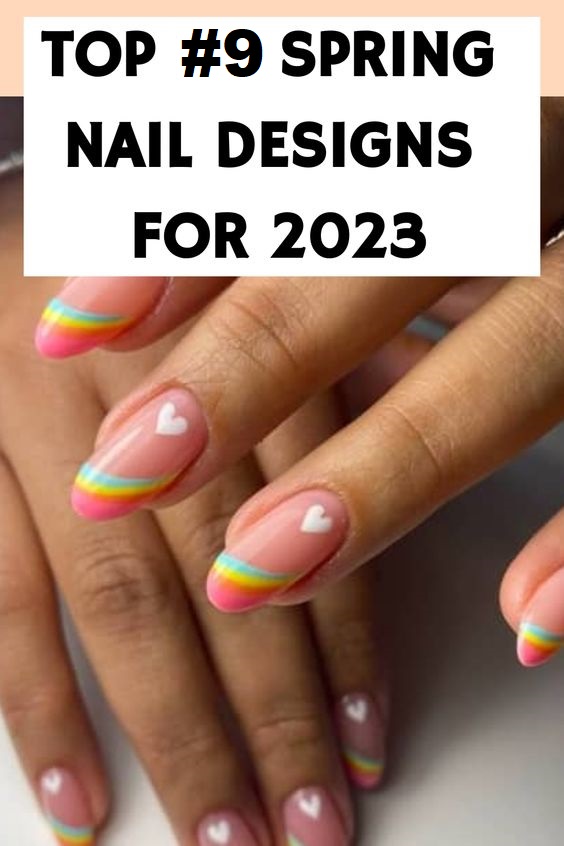 When it comes to spring beauty trends, I'm usually underwhelmed. Unlike in summer, when I completely swap my coffin nails for short nails, or go from nude nail polish to bright, neon shades, in spring, I'm usually feeling a bit meh about the vibes. But lemme tell ya: This year's 2023 spring nail trends got a glitzy update from the usual simple Easter-egg pastels and neutrals, with nail jewelry, major embellishments, and metallic chromes dominating the season. Which means for once in my life, I'm actually struggling to pick my favorite spring trend.
So to help me (and you) out, I chatted with nail artist Ashmita Lama about the top 2023 spring nail trends, including what trends her clients are requesting, which celeb looks her clients are using as inspo, and how she's transitioning her nails from winter to spring. Keep scrolling for all the looks with tips for how to get them at home:
1
Cobalt-blue nails for spring
"Don't be afraid to experiment with colors, like a bright-cobalt blue, which will be a common choice for spring and summer this year," says nail artist Ashmita Lama. "It's classy and goes with everything, but definitely adds statement as well." Try Orly's It's Brittney Beach or (my fave) Cirque Colors' NYFW for that electric, bold-blue color.
2
Floral nail designs
Dainty, vintage-inspired floral designs were all over the spring/summer 2023 runways (LoveShackFancy and Susan Alexandra to name a few) and give off the vibes of period-piece, Bridgerton-inspired wallpaper. But if you're not ready for a fully wallpapered mani, copy celebrity nail artist Betina Goldstein's look above by sticking tiny flower decals to a light base color.
3
Bright-green spring nails
Ready to fast-forward past the delicate spring shades and roll right into the bright summer-y hues? I highly suggest starting with lime green. If you want your nails to look extra bright and neon, paint a white base layer underneath, then, paint on two to three coats of green nail polish to make the color really stand out.
4
Micro-French tips
A French manicure will legit never go out of style, but if you want an updated version, ask your nail artist for a micro-French tip, which not only elongates your nails but is also super versatile. Choose your favorite monotone color, whether you go for a bright shade or a neutral one, or go all in with a rainbow-French tip like above.
5
Nail jewelry
Why would we still reserve jewelry for only our ears and necks in 2023? Obviously, we'd find a way to bring the ~bling~ down to our nails, and the answer is these nail hoops. The look above is done with The Editorial Nail's nail hoop (here's a tutorial), which turns a basic solid-colored manicure into a whole moment. But FYI: This look is best achieved with press-ons, acrylics, or gel extensions to avoid having to pierce your own nail.
6
Lemonade-yellow nails
FYI: The glazed-donut nail trend is still alive and well, says Lama. But (!) try it for spring with a pastel shade underneath, like this bright yellow on Hailey Bieber, or a light pink or baby blue. If you're DIYing, just paint on a sheer coat of your base color, layer on a top coat, then lightly buff silver chrome powder across your nails for the glazed effect.
7
"Lip gloss" spring nail trend
Once nail artist Tom Bachik started giving celebs this ultra-shiny and surprisingly neutral nail look, it quickly infiltrated my IG feed. It's essentially a sheer, neutral nail color with major shine that mimics the look of lip liner and lip gloss. To get a different and unique vibe, play around with the base color, whether you opt for a pink-tone shade as seen above, or go with a beige-y, brown nude.
8
3D embellishments for spring
Raised textures will make your manicure look instantly more futuristic and ~2023~, says Lama, especially when you pair them with chrome or metallic elements, as in this gold nail look. Play around with different embellishments for your nails—like chains, gemstones, and beads—coupled with a hard gel and UV nail lamp so they don't catch or budge.
9
Retro nails for spring 2023
"I feel like a lot of retro colors and designs will be the choice of clients for spring 2023," says Lama. It's giving Daisy Jones and the Six vibes, and I'm here for it. You can try a simple '70s vibe with muted jewel tones like mustard yellows and teals, or go with a vintage-inspired design, like the nails above. Checkered patterns, mushroom motifs, and groovy squiggles are a mainstay of this era and this design.