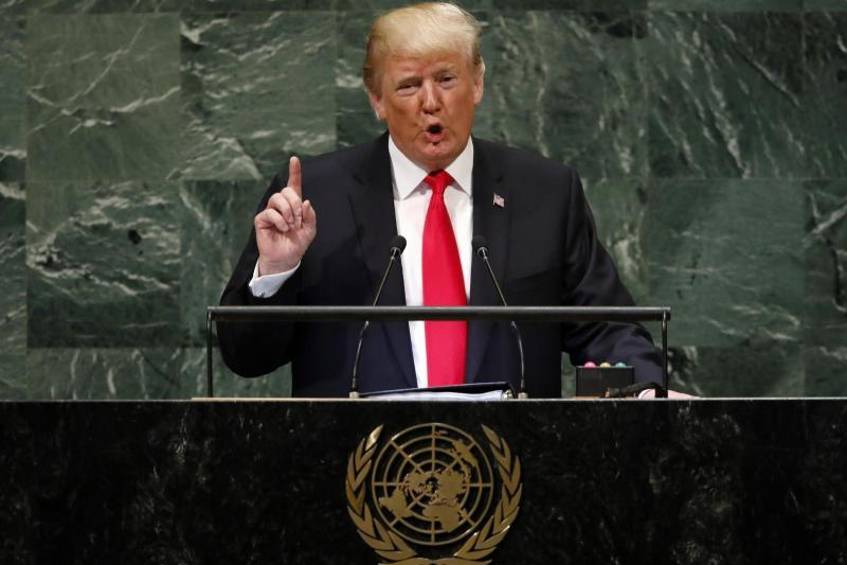 Outstretched hand for North Korea , broadside against Iran and a side blow to Germany : US President Trump's second speech to the United Nations was much tamer than his first – but should not have been well received by many colleagues.
New York (AP) – US President Donald Trump called for a global isolation of the Iranian government before the UN General Assembly . "We call on all nations to isolate the Iranian regime as long as its aggression continues," said Trump in his speech to the United Nations in New York .
Iranian President Hassan Ruhani countered immediately: a few hours after Trump's turn, he indirectly accused the US president of not being up to the topic. "Countering multilateralism is not a sign of strength but a symbol of the weakness of the intellect," Ruhani said . Trump tramples on the global rules and acts "absurd and abnormal". The sanctions imposed on Iran are a form of "economic terrorism".
Trump defended the US's unilateral withdrawal from the nuclear deal with Iran and its US sanctions, which have been in effect since August. The US President stressed that on 5 November a second round of sanctions will be reinstated, including on Iran's vital oil trade. The economic pressure should prevent the government in Tehran from receiving "their bloody intentions". He called the Iranian leadership a "corrupt dictatorship" and added, "The Iranian leaders are sowing chaos, death and destruction."
The EU holds against unchanged to the nuclear deal with Iran firmly. There is a danger that Iran will reenter a military nuclear program under the greatest possible pressure , emphasized Federal Foreign Minister Heiko Maas ( SPD ) before the beginning of the general debate. "We do not want that, that would set the whole region on fire." Therefore, the agreement to prevent the Iranian nuclear bomb, from which the US has left, must be preserved.
US Secretary of State Mike Pompeo sharply criticized the system planned by EU countries to circumvent US sanctions against the "regime of criminals" in Tehran . "This is one of the most counterproductive measures for regional and global peace and security," he said.
EU states such as Germany , France and the UK want to set up a special purpose vehicle to circumvent US sanctions in order to save the nuclear deal with Iran . This company is to handle the payment transactions in Iran transactions, if private banks because of imminent US penalties to declare no longer ready.
Trump's National Security Advisor John Bolton threatened, "The murderous regime and its supporters will face significant consequences if they do not change their behavior. Let my message be clear today: We're watching and we'll be after you."
Immediately before his speech Trump had ruled out a meeting with his Iranian colleague, as long as there was no policy change in Tehran . Trump repeated that the Iranian leadership wanted to meet him.
But Ruhani told CNN that Iran has not asked for a meeting and does not think it makes sense at the moment. In contrast, the US side asked eight times last year for a conversation. Ruhani further said against Trump that it was a pity that there were political leaders who believed that they could assert interests with "extremist nationalism" and "racism and xenophobic tendencies that resemble Nazi sentiments".
In the nuclear conflict with North Korea Trump, however, sees great progress. Things have moved a lot since his summit with North Korea's ruler Kim Jong Un in June, Trump said . Progress had been made that many would not have thought possible. There are no more rockets flying in all directions, nuclear facilities are already partially dismantled. Trump thanked Kim for these steps and for his "courage." He emphasized at the same time that there is still a lot to do. At his first speech to the UN General Assembly last year, Trump had North Korea threatened with annihilation and thus fueled worldwide war fears.
In this year's speech, Trump again campaigned for national interests to take precedence over a global world order. He announced that US foreign aid would be more geared to their own interests.
In addition, Trump again sharply criticized Germany's energy policy . " Germany will become totally dependent on Russian energy if it does not immediately change its course," said the US president. The US , together with Eastern European countries, are fighting against the construction of the Baltic Sea pipeline Nord Stream 2 from Russia to Germany . Trump has already sharply criticized the project several times. The Federal Government emphasizes that this is an economic project.
Turkish President Recep Tayyip Erdogan again criticized the Trump administration in its speech to the UN General Assembly . "Nobody can be silent when trade agreements are arbitrarily annulled, protectionist policies are widened, and economic sanctions such as weapons are used."
In August, the dispute between Washington and Ankara over the fate of a US pastor detained in Turkey escalated. The US imposed sanctions that Turkey returned. The Turkish currency Lira, which has been weakening for months, subsequently collapsed to historic lows.
Previously, UN Secretary-General António Guterres had deplored the loss of confidence in the world at the start of the 73rd UN General Assembly general debate. "People are worried and insecure, trust is at the breaking edge, trust in national institutions, trust between states, trust in a rules-based global world order," Guterres said. "We have a duty to establish and support a reformed and strengthened multilateral system."
More than 140 heads of state and government want to address the UN General Assembly by next Monday , and numerous high-level meetings in front of and behind the scenes are planned on the sidelines.