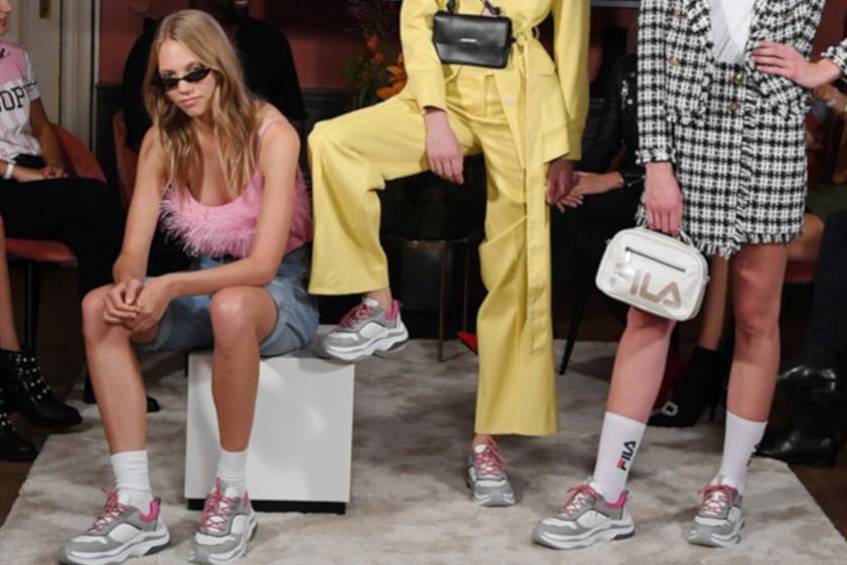 Top styled in nasty bad weather? That's no problem with the right shoes. This is the perfect way to combine sneakers , sock boots and boots.
Lower temperatures and muddy weather make the shoe choice is not easy, if you still want to be dressed fashionably. But this autumn, everything will be different, because it goes back to the 90s fashion! Fashionistas are just spoiled for choice between rocking boots, Ugly sneakers and trendy sock boots, as shown by Deichmann's current "Style Explosion " collection. There is only one question left: How does women properly combine the new shoe trends ?
The hip style break
For the black bootie with pearls on the buckles from the new collection, stylist Sascha Gaugel recommends breaking the style, for example. "Usually you would wear black jeans, a T-shirt or a leather jacket". His suggestion for the shoe, which is "rocking and chic" at the same time: Combine it, for example, with a "chic day dress" or a "not too elegant cocktail dress", with leather or "quite casual in street style" with a blouson. Only for a real evening dress he would not recommend this shoe, so Gaugel on. But during the day or at work the bootie will definitely work.
The comfortable 90s 
sneaker
Another recommendable autumn shoe in Deichmann's "Style Explosion " collection is the sneaker "with a thick, fat platform sole", enthuses Michèle Leyendecker , fashion expert for the large shoe retailer. A fashion-it-piece "that you definitely have to have this season". This shoe type is obviously celebrating a comeback. "Old trends come back at regular intervals," also know the two experts. "At the moment it's clearly the 1990s, that's a total hype," explains Leyendecker .
Sock Boat
Somewhat less comfortable, but especially stylish is the new sock boot trend. For the influencer Clea-Lacy Juhn, this shoe will be racing in autumn. "I think it's really cool! I have quite small ankles and of course a sock boat is perfect", she explains at the Deichmann Style Talk about the striking h#t trendy ankle boots with hautengem ("Sock": German Socks), over-ankle-high shaft.
It's getting casual
Also at the Style Talk site was star hairdresser Shan Rahimkhan. And he commented on hair and make-up trends: "The fall trend is quite easy this time, much more natural, more undone and more casual, and without curls! We've seen so much curls in the last two years, but now it's getting that much more relaxed, "he says. And also with the make-up, it becomes therefore natural, because the lips are "almost not at all, the eyes completely reduced" stressed. Well, if that does not fit perfectly with casual Ugly sneakers and Co. …