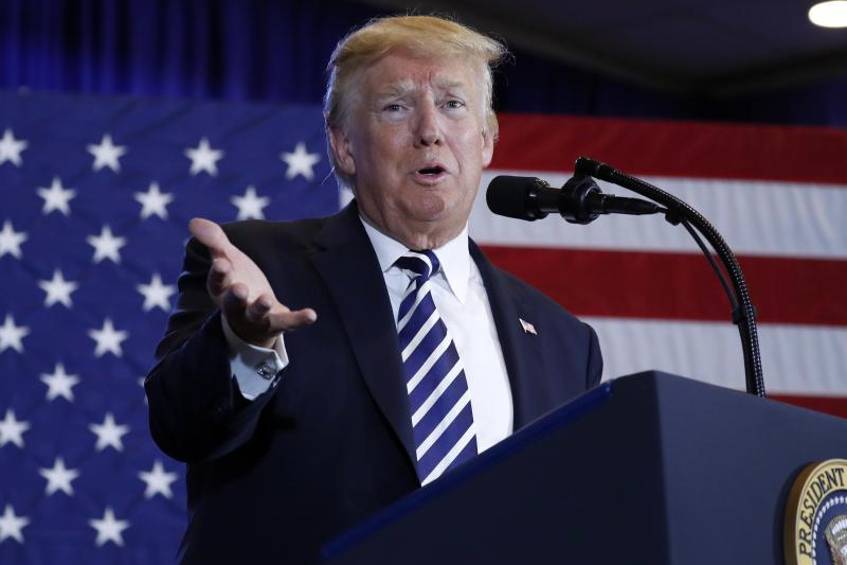 In the biggest step of his customs campaign has Donald Trump imports from China worth $ 200 billion with extra duties . Also companies in Europe fear thereby large effects on their business.
Beijing / Washington (dpa) – US President Donald Trump , in his biggest impact in the trade dispute half of all imports of goods from China assigned special duties.
Customs duties on $ 50 billion worth of goods will be followed by customs duties on goods worth $ 200 billion on September 24, the US government said Monday (local time) in Washington . Thus, the US has driven the trade dispute between the two largest economies in the world to an unprecedented level of escalation.
The new tariffs will initially amount to ten percent, from the beginning of 2019 should be raised 25 percent, it was said from the White House. However, the door to talks remains open. Some product groups, including Apple smart watches , Bluetooth products and high chairs and car seats for children should be excluded, it was said from the White House.
Should China now respond with countermeasures against US agriculture or other industries, the US government would usher in another phase – the third – Trump said . Then another 267 billion imported goods from China would be subject to extra duties . "If other countries do not engage in fair trade, they will be fined," Trump tweeted . Negative effects for the US have so far been barely measurable.
Beijing's European Chamber of Commerce warned on Tuesday: "The impact of the trade war on European companies in China is significant and mostly negative," said Mats Harborn , president of the European Chamber of Commerce in Beijing , on the occasion of the presentation of a new position paper.
According to a survey of EU companies operating in China , the conflict leads to "significant disruptions to global supply chains". The trade dispute has serious consequences for companies that are neither Chinese nor American. About half of the respondents said they feared the negative impact of the dispute.
China had already warned against further escalation of the trade conflict. Geng Shuang, a spokeswoman for the Beijing Ministry of Commerce, reiterated on Monday that the People's Republic would respond with "countermeasures" if the US imposed further punitive tariffs on China . They said they would "defend themselves resolutely," they said.
Both countries have already overdrawn each other with punitive tariffs on goods worth around $ 50 billion each. Beijing had already announced that in case of new US tariffs on goods worth 200 billion US dollars additional special levies on imports from the United States to want to raise the value of 60 billion US dollars.
However, China's ability to retaliate with its own punitive tariffs on imports from the United States is limited: the US only exports goods worth $ 130 billion to China .
However, observers pointed out that Beijing has other options to put Washington under pressure. For example, US companies, which have been profiting enormously for years from the consumerism of the billion-dollar people, could make business in China more difficult.
The punitive duties imposed by the US are clearly the wrong way to go. However, the underlying criticism of the White House is divided in many ways, said the EU Chamber. Foreign companies in the People's Republic would still be systematically disadvantaged despite their promises of reform.
The question of whether fair competition prevailed for EU companies in China , must clearly be answered with "no". Lengthy and non-transparent administrative procedures, the unpredictable enforcement of regulations and subsidized state-owned companies with monopoly power would create a business environment that has nothing to do with the promised reforms.
The US-led trade conflict was nevertheless counterproductive. Instead of focusing on opening its economy, China would now take action to protect domestic companies from the effects of tariffs.