The MacBook Pro 13 "Retina is a 4-megapixel Retina display that delivers crisp, realistic images. A 2.7 GHz i5 processor with Intel Iris Graphics 6100 graphics and video support, 128GB flash memory PCIe base, 8 GB of memory, a reinforced battery and the Force Touch trackpad with new features also ensure that the slim and light notebook has more power behind each pixel.
Notebook for mobile peak performance
33.78 cm (13.3 ") retina display with 2,560 x 1,600 pixels
2.7GHz dual-core Intel Core i5 processor (turbo boost up to 3.1GHz), Intel Iris Graphics 6100 graphics card, 128GB SSD, 8GB of RAM
2x Thunderbolt 2, 2x USB 3.0
802.11ac WLAN, Bluetooth 4.0
Battery life up to 10 hours
Retina Display: That looks good!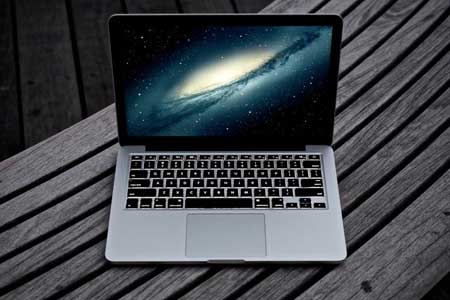 The Retina display of the MacBook Pro 13 "has over 4 million pixels to offer and each one provides a fascinating display: together, the pixel density is so high that your eye can not see a single pixel anymore, resulting in incredibly high resolution, crisp and sharp Realistic images and text. The Retina Display also minimizes aperture effects, providing unrivaled clear, bright colors and impressive contrasts.
High performance with Intel processor and graphics card
A 5th Generation MacBook dual-core Intel Core i5 processor delivers maximum performance in the MacBook Pro 13 "Retina, with Hyper-Threading, each processor core can handle multiple tasks at the same time, delivering even greater performance, 2.7 GHz, 3 MB Shared L3 cache and Turbo Boost are available for almost all of your needs, while the Intel Iris Graphics 6100 graphics card is designed for fast, smooth processing of your everyday tasks, as well as graphics-intensive apps, and even connect up to two external displays MacBook Pro to the center of your workstation.
Click, press, feel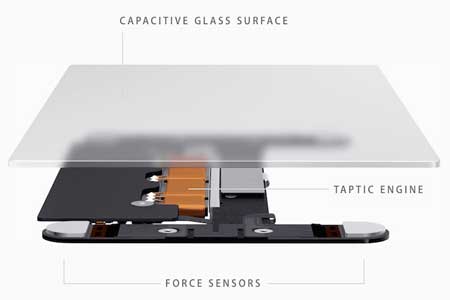 The Force Touch trackpad has pressure sensors that detect minimal differences in pressure. This gives you even more options with a fingertip. Click and hold your finger to release a new function. And press stronger, e.g. Create an appointment in your calendar. In order not only to see on the display, but also to feel it, you get a haptic feedback via the trackpad.
Memory and battery power
The PCIe-based flash memory offers incredibly fast read and write speeds. In this way, extensive data can be quickly imported and saved. Without moving parts, Flash is extremely robust and quiet. Thanks to its energy-efficient operation, the SSD also protects the battery. Up to 10 hours of continuous operation are possible and more than 1,000 complete charging and discharging cycles. Your MacBook Pro is always ready for you, just as you left it.
Connections and communication
The MacBook Pro shows maximum data transfer speeds with two USB 3.0 and Thunderbolt ports. Thunderbolt makes transfers of up to 10 GBit possible and a series connection of up to six devices possible. A card slot provides connection for space-saving SDXC memory. With 802.11ac WLAN, the wireless data transmission is as reliable and fast as never before. Via a corresponding base station your computer is even up to 3x faster in the WLAN on the way. The MacBook Pro connects to the wireless multimedia world via Bluetooth 4.0 or AirPlay.