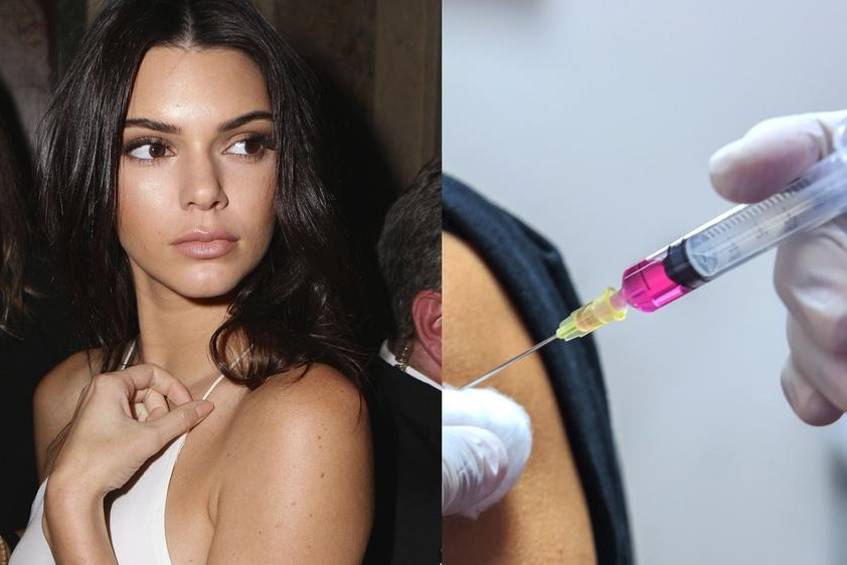 Hyaluronic acid for perfect nipples or laser beams against baby hair : Kendall Jenner or Kim Kardashian-West accept all kinds of beauty. The latest beauty trends even work without a scalpel .
"If you want to be beautiful, you have to suffer," they say. Thanks to so-called "minimally invasive methods", the latest beauty trends from Hollywood are possible without a scalpel and in no time at all . Thank hyaluronic acid or laser. Nevertheless, these "speed treatments", in English: quick treatments, not less questionable …
Raised nipples thanks to injection
Kendall Jenner (23, "Keeping Up With the Kardashians ") and other US stars allegedly have already done so: the nipple injection with hyaluronic acid. At the moment, optimization of the nipples seems to be at the top of the popularity scale of beauty interventions. As with lip spraying, hyaluronic acid is injected under the skin to erect the nipples . The "volume boost" (cost: about 500 euros) is not permanent – after half a year, the nipple effect has disappeared again.
The weapon against 

baby hair

 : the laser
Baby hairs are the fine, short hairs that usually stand untamable on the hairline. Anyone who does not want to tame them with hairspray can do the same with Kim Kardashian-West (38). The reality star, the hair around the face allegedly removed by laser. The advantage: the hair does not grow after a laser treatment in the places. However, if you have some patience, you do not have to undergo this painful and expensive treatment, which costs about 100 euros. Because the hair grows normally by 1.5 centimeters per month.
Absorb grease on the ankle
The so-called "flanking" was a controversial trend in 2018. His ankles were shown – even in cold temperatures. But if you want to have slim ankles, you can train them with sports or a healthy diet. How practically so that now the so-called "laser lipolysis" is offered. A treatment that makes the shackles slim.
The first wavelength of the laser causes the fat to dissolve. In the second wavelength treatment deeper skin layers are achieved and this in turn generates a tightening effect by stimulating the collagen fibers. The cost is around 800 euros, which – if you are honest – would certainly be better invested elsewhere.